Selling A Home | Free Pricing Consultation | Our Seller Services Guarantee | Agency Disclosure | Concierge Services | Moving Resources
First Impressions Are Lasting Impressions
Here are some suggestions to make your home stand out from other homes in your price range: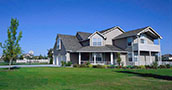 On the Outside

Within 15 seconds a buyer has developed an opinion of your property
Give the street, the drive and the walkways a fresh sweep
Make sure your front door, outside trim and fences are freshly painted
Fix that doorbell!
Don't forget to touch up the mailbox
Trim shrubs and keep the lawn cut
Make sure the roof is in tip top condition (forgive the pun!)
Pressure washing your siding may give you home a whole new look.
On the Inside

Smell is one of the most important senses - and one of the most neglected!
Invite a neighbor or outside family member over for a sniff test.

lingering pet and smoke odors can stop a buyer dead in his tracks
inviting scents, on the other hand, can make a sale - try fresh flowers, potpourri, lemon Pledge, or freshly baked cinnamon cookies

Soft music can create an attractive ambience
Noisy appliances can be a negative distraction
Your Coldwell Banker King George Agent has both a pamphlet and a DVD entitled The Coldwell Banker Home Enhancement Guide. The pamphlet and the DVD are both full of great, cost effective ideas to help you stage your home for the market. Contact us today and we will be glad to deliver these to your front door.