Buying A Home | Buyer Agency | Free Financial Consultation | Financial Services | Agency Disclosure | Moving Resources | Relocation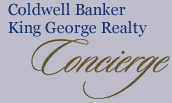 Concierge Services
View all Vendors
Welcome to Coldwell Banker King George's Concierge Services. You may search for services by type or area. When you perform your search, the vendors names will appear. In order to see more detail about a particular vendor, simple click on the name.
If you would be interested in listing your company's services on our website, please call Sue Ferdinand at (518) 644-2243
The attached list of vendors is supplied for your convenience. While we have enjoyed a productive relationship with many of these vendors, the presence of their advertisement on this site in no way constitutes a recommendation or endorsement of their services by Coldwell Banker King George Realty.